Ever felt a burning sensation rising towards the chest to the mouth? The burning sensation is pretty common in people who have digestive tract issues but yoga can help to combat it. Although acid reflux has no proper reason, most people make reasons for eating spicy food and less activity after eating food.
The issue is that most people do not feel the same while others report acidity issues. Moreover, there is an age-based trend that shows that when you are young, acidity might not affect you so much; however, as you get older, acidity issues will become very common for you.
In short, acidity is not just connected to one reason so many different contributors collectively impact your digestion making you feel like you have an acidity issue. According to some recent studies, experts believe that acidity might also be connected to other issues so, in itself, acidity can be a symptom that might indicate that your health is not good or you have some stomach-related issue.
With the help of this article, we will look at the actual symptoms of acidity and the reasons. We will also look at some active remedies that you can try at home. Finally, we will also mention some basic yoga poses that are very effective in reducing the chance of acidity or at least managing extreme symptoms.
What Is Acidity?
When you eat something, the food please through the food pipe and enters the stomach. Here the food gets mixed with acid so it can get digested and then the food continues to move to the intestine area. However, in some cases, this food runs back toward the food pipe.
Since the food has already been mixed with acid, you will notice that the spice and acid will mix to make a burning effect in the chest. This burning affects stays for a long time unless you do not try to cure it, change your lifestyle or take some medication.
This acid reflux is also known as gastroesophageal reflux and the burning sensation it causes is called heartburn. Moreover, this whole process of feeling bloated and getting heartburn is called acidity. The burning sensation might also lead to leaving an unpleasant taste in your mouth and your breath might stink as well.
According to a study conducted by America health sciences, acid reflux or acidity is pretty common. Almost 20% of individuals in the US complain about acidity. Although it is a common issue if you feel acidity issues at least 2 times a week, this issue might end up damaging your food pipe so it is better to treat it for the long term.
Symptoms of Acidity
Feeling a burning sensation in the chest, especially the food pipe
Stiffness and pain in the chest
Issue with swallowing
Bloating
Coughing
Painful throat
Lump in throat
Reasons
There are so many different reasons for acidity, here are some main reasons you need to consider:
Laying down right after eating
Eating a lot of spicy food
Being Overweight
Diabetes
Breathing issue
Pregnancy
Simple Remedies to Try
Although it is important to contact your doctor, for instant relief you can also use home remedies for acidity.
Use milk of magnesia
Use over-the-counter medication
Drink cold milk
Drink a lot of water
4 Yoga Workouts to Help You Get Rid Of Acidity
Within yoga, you will have so many different poses that can help you improve digestion. These poses will improve the blood circulation in the stomach area which will boost the metabolism and eventually you will notice that the acid reflux and overall acidity will eventually stop. Here are some main yoga poses to join yoga classes:
This is a Plough pose. For this pose, you will lie down straight with your back against the flow. Now you will raise your leg at 90 degrees and then support your lower back by using your hands as a stand. You can take support from the elbow and push up the lower back so the head and upper torso stay on the flow while the lower portion curls in the air and then back.
This pose is a Seated forward bending pose. For this pose, you will lay down straight, and then while your legs are stretched right in front of you, lift your upper body so you will get into the sitting position. Now, bend straight till your head touches the knee, and then retain this position.
This is a Camel Pose. A little challenging but it is extremely effective as well. In this pose, You need to bend backward, making your legs fold. The upper body will stay in the air. The basic idea is to balance your body and make sure you are not hurting your back.
This is a Wind relieving yoga pose. This pose helps you reduce bloating and improve blood circulation in the digestive system and eventually this will boost your digestion.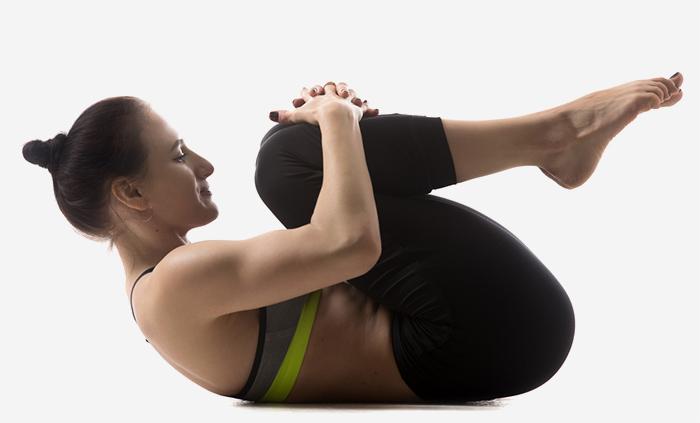 To sum it all up, your overall lifestyle plays a very important role in making your symptoms worse. Usually, people living in the south Asian region eat a lot of spicy food and if they have a passive lifestyle this can cause acidity issues.
To resolve the acidity issue it is very important to focus on changing lifestyle and adding simple habits that can eventually help with digestion focusing on the diet is just one part of the lifestyle while other factors will include things like getting into an active lifestyle, working out and make sure you stop eating at least a few hours before going to bed.